Avison Young negotiated a lease transaction for 4,750 sq.m in Sofia Office Center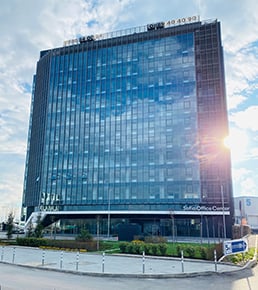 April 21, 2021
Four new floors will be occupied in the building.
Anton Slavtchev, Principal and Managing Director of Avison Young's office in Bulgaria today announced that Sofia Office Center will have a new tenant – Chaos Software. The deal for 4,750 sq.m. spread on the top four floors of the building was signed yesterday.
Sofia Office Center was represented by Avison Young, while Chaos Software was represented by a local broker - Avalant.
Sofia Office Center is built to international standards of sustainability and care for the environment. The office building is an example of modern construction, that aim to make life better for everyone. The project applied for the prestigious British BREEAM certification at the "excellent" level and already received the interim certificate for Design Stage. In addition, the well-established location and high visibility of the building provides convenient access from / to the city center and the airport by metro and by car.
Chaos Software is a world leader in visualization and computer graphics with offices in Tokyo, Seoul, Los Angeles, and Sofia.
"What is exciting with this transaction is that the tenant is a company that produces technology for creation of 3D and virtual reality but then again clearly realizes the need of a physical, functional and sustainable office that will enhance real human interactions. We have worked with Sofia Office Center's team on the positioning and leasing of the project for the last two years and today we are happy to share this achievement with them." said Slavtchev.
"One more step back to the normal office life" shared Hristo Chepishev, entrepreneur and managing director of Sofia Office Center. "I am proud of my team and thankful for the professional advices of our consultant Avison Young and particularly Anton Slavtchev." added Chepishev.