Avison Young and Eris Property Group announce new affiliation agreement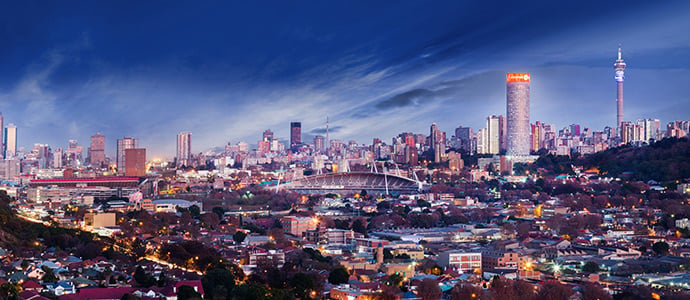 September 14, 2022
Avison Young and Eris Property Group today announced a new affiliation agreement, which will see Eris' established Occupier Solutions and Leasing & Investment Brokerage businesses operate as Avison Young South Africa to provide customized real estate solutions to clients throughout South Africa and in sub-Saharan Africa.
These added business lines build on the existing Avison Young South Africa business, which first launched to the market in June 2021. The South African affiliate will continue to be led by Avison Young Principal Mark Latham, who is joined by Eris' Head of Corporate Real Estate Solutions, Debbie Bands, as co-head and Principal.
The affiliation with Eris gives Avison Young the opportunity to offer additional services to its clients, including Property & Facilities Management, Asset & Fund Management, Valuations, Retail Services, Property Development in addition to the existing occupier, advisory and agency services.
Clients will benefit from an expanded geographical platform with offices in Ghana, Botswana, Malawi and Mauritius in addition to offices in Johannesburg, Durban, Cape Town and Bloemfontein in South Africa. Eris, a Level One Broad Based Black Economic Empowerment (BBB-EE) contributor, also has an extensive track record of delivering services across many countries in the sub-Saharan African region.
Mark Latham, Principal of Avison Young in South Africa, said:
"Our affiliation with Eris represents an opportunity to bring one of South Africa's and Africa's leading property groups together with a leading global brand. When we launched Avison Young in South Africa in June 2021, we had a clear mission to build a meaningful business and deliver exceptional service to our clients. The affiliation with Eris allows us to achieve this envisioned growth faster and to scale the business quicker by leveraging Eris' team, the services they provide and the geographical platform across South Africa and the region."
Debbie Bands, Principal of Avison Young South Africa, said:
"This affiliation marks an exciting new chapter for Eris, bringing with it the opportunity to leverage Avison Young's global platform and technology-led insights to better service our existing clients and bring new clients onboard. Particularly in the Occupier Services space, which is a key strategic growth area for us, this international affiliation will drive development and fast-track change within our business. The affiliation will continue to cement our reputation as a top service provider, while offering additional benefits through divisions that we have access to within the corridors of Eris."
Barend de Loor, Chief Executive Officer of Eris Property Group, added:
"A good partnership leads to shared benefit. Avison Young will provide Eris with access to the latest property trends and information on a global platform and meets our strategic intent to diversify our business geographically. Eris in turn will offer Avison Young's diverse client base access to the African continent and its growth opportunities. We are extremely excited at the prospect of what our partnership will deliver."
The affiliation agreement in South Africa builds further on a growing Avison Young services platform across EMEA that also includes operations in Bulgaria, Czech Republic, France, Germany, Hungry, Ireland, Israel, Poland, Romania, Austria and the UK.
About Avison Young
Avison Young creates real economic, social and environmental value as a global real estate advisor, powered by people. As a private company, our clients collaborate with an empowered partner who is invested in their success. Our integrated talent realizes the full potential of real estate by using global intelligence platforms that provide clients with insights and advantage. Together, we can create healthy, productive workplaces for employees, cities that are centers for prosperity for their citizens, and built spaces and places that create a net benefit to the economy, the environment and the community.
Avison Young is a 2022 winner of the Canada's Best Managed Companies Platinum Club designation, having retained its Best Managed designation for 11 consecutive years.
For more information:
Rebecca Kalra, Media Relations – UK, +44 (0)20 7911 2875
Mark Latham, Principal, Avison Young South Africa, +27 (0)72 053 9797
Debbie Bands, Principal, Avison Young South Africa, +27 (0)72 053 9797