Avison Young identifies 10 key trends impacting commercial real estate in 2023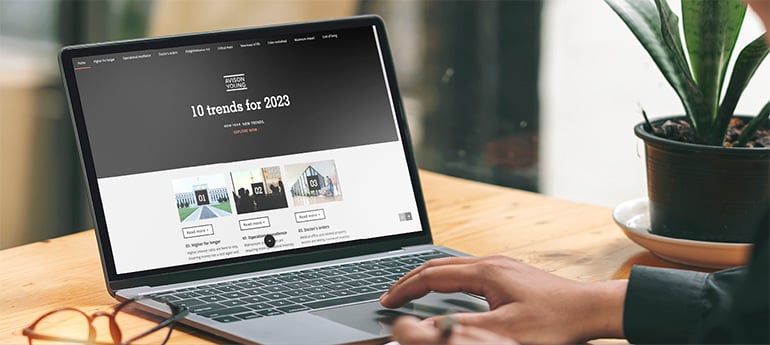 януари 30, 2023
Inflation, experiential real estate and alternative sectors, friend-shoring and metaverse among 10 global trends to watch in 2023
Toronto – Avison Young today released its global 10 Trends for 2023 – exploring dominant themes and emerging trends that are influencing commercial real estate around the world.
"Understanding social, economic, environmental, geopolitical and business drivers is key to how we navigate clients through the current landscape and help them devise critical real estate strategies that have resilience for the future," said Dr. Nick Axford, Principal and Chief Economist for Avison Young. "Although economic uncertainty is a key feature of the current environment, our global 10 Trends demonstrate that significant opportunities remain."
Among the trends influencing real estate strategies and business decisions:
Higher for longer: Higher interest rates are here to stay, meaning money has a cost again as we enter a new era for commercial real estate pricing.
Operational excellence: Mainstream asset classes require more operational intensity and investors are targeting niche sectors with a greater focus on what goes on inside the building.
Doctor's orders: Medical office and related property sectors are seeing increased investor demand, with data analytics helping to identify the best opportunities.
(De)globalization 3.0: What started with changing economic cost-benefits, post-pandemic risk reduction and climate change has been given a new impetus by the war in Ukraine – driving re-shoring, near-shoring and friend-shoring.
Metaverse or Betterverse?: Focusing on the keen interest around cryptocurrencies and virtual worlds risks missing the ways that the underlying technology behind Web 3.0 is already benefiting real estate.
The global 10 Trends have been prepared based on the market knowledge and experience of Avison Young experts from around the world, along with additional resources.
About Avison Young
Avison Young creates real economic, social and environmental value as a global real estate advisor, powered by people. As a private company, our clients collaborate with an empowered partner who is invested in their success. Our integrated talent realizes the full potential of real estate by using global intelligence platforms that provide clients with insights and advantage. Together, we can create healthy, productive workplaces for employees, cities that are centers for prosperity for their citizens, and built spaces and places that create a net benefit to the economy, the environment and the community.
Avison Young is a 2022 winner of the Canada's Best Managed Companies Platinum Club designation, having retained its Best Managed designation for 11 consecutive years.
Contact:
Andrea Zviedris, Canadian Media Relations: +1 416 891 7416
Sandra Hill, U.S. Media Relations: +1 281 853 5548
Rebecca Kalra, U.K. Media Relations: +1 281 853 5548